Hi everyone! We're back with another Portal Knights community blog. We want to do something a little different today…
This week, we're talking about what it is our players love about Portal Knights. You know, we're very lucky to have a very dedicated, loyal and passionate community… But here's the thing, without you guys, we couldn't do what we do and going forward, we want to give our fans the opportunity to be heard in new ways. Whether it's offering advice to other members of the community, or simply giving us their thoughts on our latest update, the spotlight is now on YOU folks!
In the first of (hopefully many) PK community-driven blogs, we recently asked a simple question to a few of our 'super-fans' – "What do you love about Portal Knights?" Check out their answers below and feel free to leave your own thoughts in the comments…
COMMUNITY QUESTION – WHAT DO YOU LOVE ABOUT PORTAL KNIGHTS?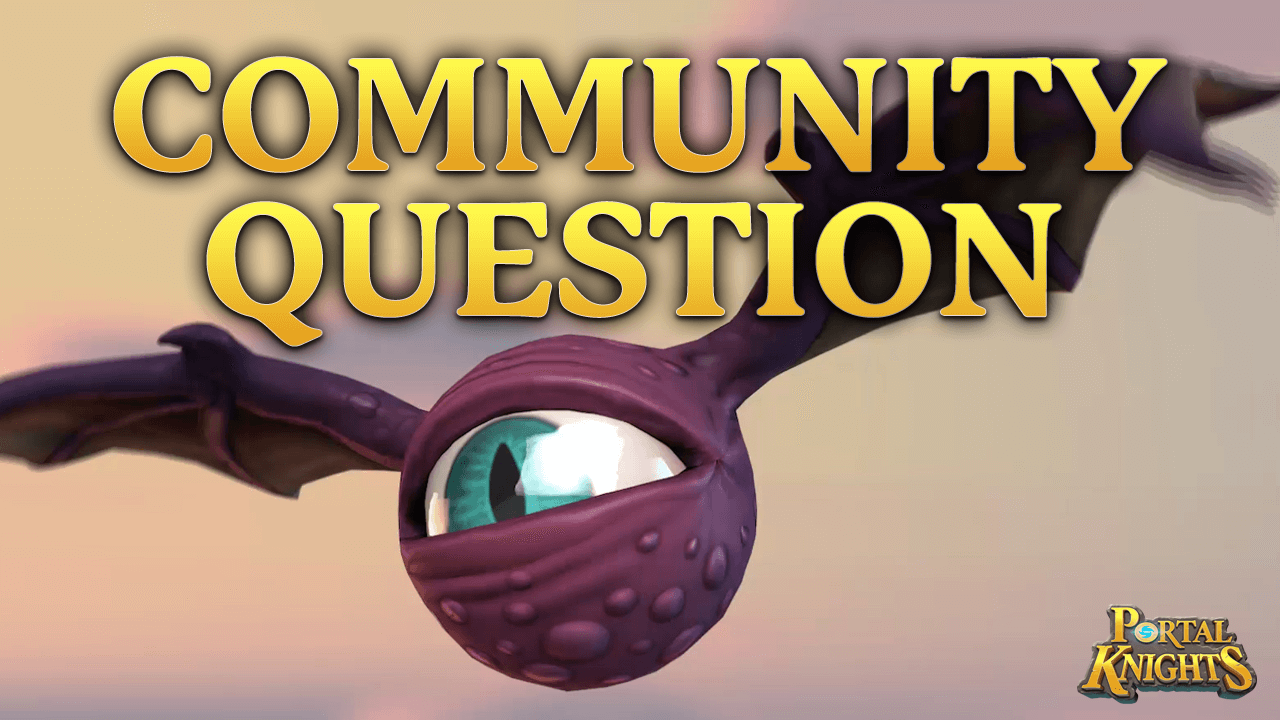 PLAYER NAME – Gr8 WyTe (iTz_Gr8WyTe)
"I love Portal Knights because it strikes a perfect balance between structure and freedom. Whether you prefer to create or explore, or a combination of two, Portal Knights provides an impressive amount of replayability. As soon as you think you've squeezed everything that the game has to offer out of it, they hit you with a massive new update. It's clear Portal Knights has been created with a great amount of care and a shared vision between its developers and community. You'd be crazy not to love this game."


PLAYER NAME – Sparky and Co (Sparky_and_Co)
"The simple answer to that question is Variety! Portal Knights offers so much, right from the start it get you into the game and shows you all the aspects, from the combat/adventure side of things. To the creative/building style. There is a full progressive adventure there for those that like to commit to fighting bosses, improving gear and fighting bigger bosses! There's the building side where the only limit is your imagination. And for the collector in you there are so many items to gather in the game, and PETS!
And with the latest FREE update, it introduces more adventure with a whole host of quests, and a creative mode for those that don't want to gather resources, but want to crack on with building. Altogether this game, I feel, appeals to so many people, and it looks so beautiful too! It's so easy to get lost in it for hours at a time. Do it! You know you want to!"


PLAYER NAME – Liz Healey (LizzieFish)
I was asked recently "What do you love about Portal Knights" Well, that's easy to answer. I love everything about the game from the levelling up, adventuring, boss battles, the ease of crafting and of course how beautiful the game looks. It grips you straight away and there is always something to do, so I never get bored. There is always a quest to be done. Could be from an NPC you meet on your travels or on the world map, where there are constant events where you can get awesome things. This small team are always working so hard to bring new content and they don't disappoint. They have a brilliant Senior Brand Community Manager Antonela ( who I had the pleasure of meeting) who keeps everyone informed and will answer any questions you may have about the game and upcoming content. The Portal Knights community will always try to help each other out. I was so happy to be granted early access as a thank you for supporting the game, but to be honest it's soooo easy to support, play and tell everyone about the game.
My advice to you? Don't delay, pick up a copy today. I for one have it on all platforms except PS4. (I don't own one!) If you are new to the Portal Knights experience but enjoy everything I mentioned then you will love it. This is the first team of devs I have come across that truly care about their players and reply too. I have always had a response from them. If you would like to ask me anything please do. I have also streamed with other Portal Knights and recorded a few videos with other people, just because we all love this game and the team, so we wanted to show people how brilliant it is. Thank you to everyone responsible for bringing such an awesome game into my life. I have made so many new friends from playing and talking about Portal Knights, I feel 'Thank You' just isn't enough. My advice is simple get yourself a copy and join our happy community. Always looking for more knights.

PLAYER NAME – RuneWolf
"Wow that's a tough question. It Would be much simpler to ask me what don't I love about Portal Knights. I've been playing PK now for over a year and to me it's one of those games that no matter what, I can pick it up and play. I've played a lot of building games in the past and while it may have been a great game nothing really stuck with me like PK has. I've never had a game make such an impact on my social life.
My family in the real world plays a lot of this game, my good buddies PhoenixHawk and JediRunestone and my little girl play with me all the time and make fantastic builds. I've met some really great online friends now as well, Lizziefish and Gr8 Wyte. We are very supportive of each other and our builds. And I think that's what I love most about PK. It's a great and wonderful community – You meet some awesome people who love to play and adventure together. It's so hard NOT to have a good time. Not to the mention the team behind the game. They are such an amazing and passionate team. They release surveys every so often asking what we would like to see in the game. That is so COOL!
I don't think these guys take a day off. Their social media pages are always active responding to as many people as they can reach. These guys and gals are gamers just like us and it shows. These are just a few things I love about Portal Knights. I could go on and on. But why don't you just join us and see what it's all about! If you want a gaming community that's always buzzing and inviting please join us. We would love to have you!"

PLAYER NAME – Nick Baker (NickletonPvP)
"Portal Knights is a game that capitalizes brilliantly on both its RPG and sandbox elements, elevating the merits of both. The game provides an endless canvas to explore once you've completed the story mode, this is a worthy challenger to Minecraft's throne.
Portal Knights has avoided making too many comparisons to Minecraft, each biome is full of rich detail, including flora and insects, rather than easily identified blocks. It looks great at a glance.
The Loyal Community from the get go of the games early development has sparked endless possibilities and community ideas, unlocking a new creative mode which enables players to build to their hearts content. Portal Knights release seasonal events that give exclusive content to those who partake, such as adorable little pets to amazing blue prints you can craft armor for yourself and friends.
One of the biggest things I personally enjoy about Portal Knights is gearing up with friends to take down the BIG BOSSES!… Some of them can be very challenging if you don't get your armor or level up to the required level. The game can really bring excitement and nail-biting experiences along with a massive sense of achievements once defeating the bosses. As they reward you with goodies.
But the best thing about the game is the COMMUNITY, AKA you guys!. Any question about the game and the team and fellow players respond to help you out even if you're a newby to the game or a portal master. We are all equal people share their builds online invite people to play with them to help defeat bosses or farm mats to craft some OP armor.
Give this game a go! If your on Xbox One, it's part of the Game Pass. It's super fun and full of content to keep you going. I've personally played it on PC, Xbox One and Nintendo Switch, racking in over 200 + hours. I'm still finding things to do within the game."

A huge thank you to our players for taking part in our first Q&A blog! Stay tuned for more of these going forward. In the meantime, if you have any thoughts you'd like to share with us, let us know in the comments or over on our community channels.
Oh… One last thing! The Adventurer's, Creator's and Villainous Update is OUT NOW on PlayStation 4, Xbox One and Steam! Nintendo Switch players, watch this space! Be sure to head over to our last blog for more info on our biggest update YET!